Ride to Pictured Rocks
July 9

-

July 14

$1199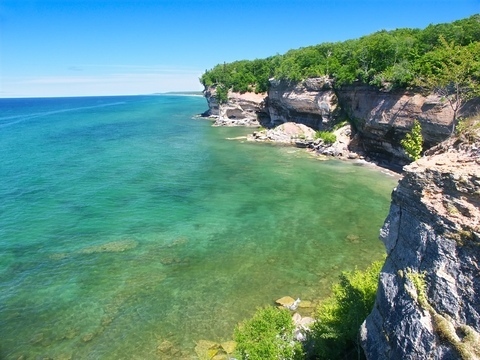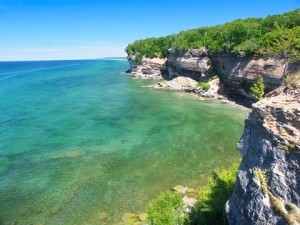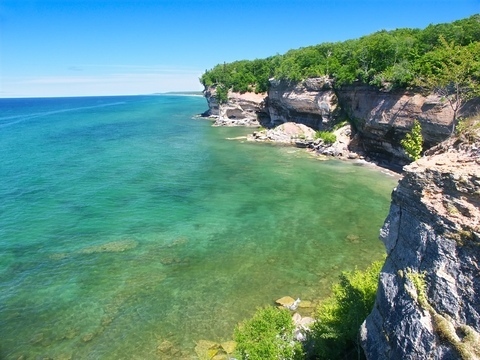 Start Date: July 9, 2017
Duration: 6 Days
Total Miles; 200
Pricing: $1199.00 per person, double occupancy
Sign up Deadline: May 30, 2017
Detailed Information
Come visit the famous Pictured Rocks National Lakeshore with us. We start the tour on Sunday in Manistique on the north shore of Lake Michigan. Arrive by 1 p.m. for our afternoon ride out to see Kitch-Iti-Tipi Springs.
Monday we head north on quiet paved forest roads, across the UP through Shingleton, and on to Munising. You'll enjoy two nights at the Munising lodge, and on Tuesday – our layover day – we've got planned a hike to Chapel Rock Beach, plus a waterside tour of the Pictured Rocks via private charter boat.
You'll love the ride Wednesday as we head east on newly-paved roads into Grand Marais. This gorgeous ride travels through the wilds of the Upper Peninsula and along Lake Superior shoreline. Grand Marais is quaint and off the beaten path, and complete with a brew-pub!
Thursday we head south to Curtis, with a stay at Chamberlin's Old Forest Inn, our favorite bed & breakfast. Built just after the Civil War, this wonderful old structure sits overlooking Manistique Lake. You'll love it here; the food is delicious, there is a tap-room, and live music to entertain.
Friday we complete the tour with our return to Manistique, topped off with the famous Box Lunch from Chamberlin's. The tour activities conclude with your arrival back at the hotel parking lot. The hotel will offer you a special rate for Friday night; arrangements for this must be made in advance, directly with the hotel.
No-surprise pricing: Sign up for six days/5 nights of fun for only $1,599.00, one guest in a private room; or bring a friend to share your room, two people/two beds, one room, $1,199.00 each ($2,398.00 total).
Two ways to register! Prefer paper & US Mail? Download, print and complete this Order by Check web form 0517 and mail it with your check.
For online registration, please click the PayPal link below for Solo or for 2 guest/1 room and make your deposit by credit card. Once you've registered with your deposit below, we'll send you an invoice for the balance which is due on June 9.