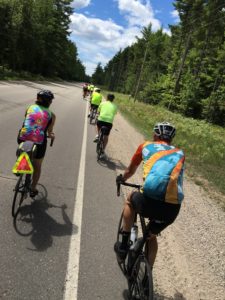 Our Week-Long tours combine safe routes with beautiful scenery. We look for quiet country roads, and our local roots have allowed us to develop rides with great sights, comfortable lodging each night, and a wonderful selection of local restaurants. These tours touch all 5 Great Lakes, from Lakes Ontario and Erie in the east, across Lakes Huron and Michigan and on to Lake Superior.
Great Bike Trail Tours are designed for those who prefer to avoid traffic. Our trail tours are scheduled on the best bike trails in Michigan, including on the Kal-Haven Trail from Kalamazoo to South Haven; on the White Pine Trail from Grand Rapids to Cadillac; on the Pere Marquette Trail from Midland to Reed City; and on the Alpena to Cheboygan Trail. These Trail Tours have some common features. Most of the riding is on crushed limestone, cinder, or paved trail converted from abandoned rail lines, and almost all riding is free of traffic. In addition, we've arranged for nice hotel or motel lodging. Most meals and trail SAG support are included.
Solo riders, take note: We get a fair number of solo travelers on each tour, and we've developed strategies to be sure everyone feels included in the group activities. Do you have a non-riding partner who wants to come along? We welcome all, please drop a note to jim@biketourvacations.com for details.
Our Promise to You We're in business to be the best bike tour company in the Great Lakes area. We'll continue to provide the best staff, safe options for biking on good tour routes, quality themes on each tour, great dining, and a comfortable bed to sleep in.
Looking for something different? We have some good friends who run other quality tours in places we can't be. For single day tours with a beer focus, you can't beat Motor City Brew Tours, with their bike & beer tours in downtown Detroit. Looking at Wisconsin? Check out Around Wisconsin Bike Tours for some wonderful rides in Wisconsin. Further west, be sure to check Wahoo! Adventures for some fun in Minnesota near the headwaters of the Mississippi River.
Looking for a camping tour? Check out the Tour of Minnesota and get on their waiting list.
Become Part of Our Family
It is easy to join our family network for the latest in what is happening in cycling the Great Lakes. We'll inform you about our vacation specials and the great locations that we visit. We will also keep you up to date on the latest in what is happening within the Great Lakes on public trails, safety tips, laws and more. So join our network if you love biking and you want to stay informed. Join our Mailing List.


Bike Tour Vacations is now registered as a "Pure Michigan" provider through www.Michigan.org and is setting the standard for biking Michigan by building a healthy alternative to the typical vacation. Contact us to find out how Bike Tour Vacations can create your vacation plans. View our list of tours that visit the best sights in Michigan and in the Great Lakes area.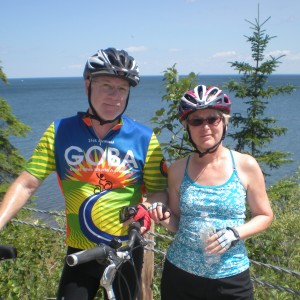 Bike together for a time to remember.