Chicago
The newest thing to blow into the Windy City? Bike lanes and lots of them. Shortly after re-election, Mayor Rahm Emmanuel promised bike reform, announcing that 50 miles of bikeways would soon be erected. Making good on that promise, Emmanuel created The Link Loop Project, a public transit initiative that has created new protected bike lanes on major roads, cleared space for pedestrians and created more sidewalk space by removing bus shelters. But biking in the Windy City isn't just for practicality, it's also really fun. On your next bike vacation, check out such trails as the North Shore Channel Trail, which takes riders on a modern art adventure through Skokie Northshore Sculpture Park, or the Bloomingdale Trail, where you can spend the calories you saved up biking on the many food and beverage options scattered throughout the pathway.
Portland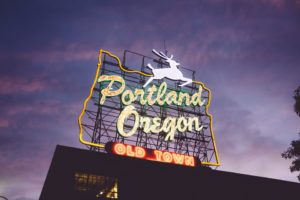 Portland is one of the most progressive cities in the country, so it's no surprise that they've adopted bike-friendly policies, reminiscent of major european cities. A whopping 7.2 percent of residents commute to work via bike, many of them using the Biketown bike share system, which boasts an impressive 1,000 bikes. But this eco-friendly mode of transportation is not reserved for just residents. Visitors are encouraged to try out such trails as the Bridge Tour, which has riders starting out on the Vera Katz Eastbank Esplanade, crossing the Steel Bridge and ending up on Tilikum Crossing, a bridge that carries cyclists, trains, busses and pedestrians- but not cars. Tilikum crosses over the Willamette River, a major fixture in Portland's downtown area, where visitors can swim or explore the nearby shops and restaurants.
New York City
Riding a bike to get around in New York City is a no-brainer and has been a preferred method of transportation for many new-yorkers for quite some time. But that grew exponentially with the 2013 election of Bill Bill de Blasio, who instituted a large safety initiative that included a Vision Zero Policy which reduced speed limits citywide to 25 mph and allotted $100 million to the redevelopment and installation of protected bike lanes. These new laws helped protect local bike trail favorites, including the Hudson River Greenway, which winds from lower Manhattan to Hell's Kitchen, showcasing views of the George Washington Bridge, and the Ocean Parkway bike path, which runs from Kensington, Brooklyn all the way down to Surf Avenue in Coney Island.
Washington D.C.
The nation's capital has long been ahead of trends. So it's no wonder that they implemented one of the country's first bike share programs, Capital Bikeshare, which is still expanding and expected to add 99 new stations by 2018. Grab a bike at one of the 440 bike share stations spread throughout the city, and head down Capital Crescent Trail, which originates in Georgetown, then heads to Bethesda and eventually winds up in Silver Spring. It's a great way to see the sights and there are also several places to picnic, canoe or swim along the way.
Minneapolis
Minneapolis certainly earned its spot as America's he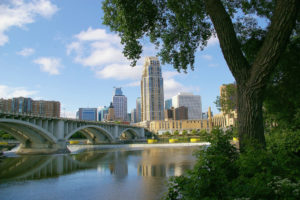 althiest city (as ranked by Forbes), in many ways due to its vibrant bike culture. In the 90's and early 2000's, Minneapolis transformed many of its abandoned railways into bike pathways, effectively creating one of the largest bike path networks in the country. One of the most picturesque and popular pathways in the city is the Midtown Greenway, which boasts a six mile route that encompasses three lanes: two for cyclists and one for walkers and joggers. Whether you choose the Greenway or the Cedar Lake Trail, you're sure to enjoy your Minneapolis bike vacation.