Private Bicycle Tours
Private Bicycle Tours are an important part of our business, occasionally mirroring our public tours but with custom enhancements. These might include upgraded lodging or dining options, additional mileage, etc. In March 2017 a question came in from a private group, asking for a private tour of 2 weeks duration and 600 to 700 miles.
Their idea was fairly straightforward. Cycle around the north half of Lake Michigan, starting in Manitiowoc, Wisconsin, heading across the Upper Peninsula, ending in lower Michigan to Ludington. The Badger Ferry would connect the start and end points.
More Days, More Miles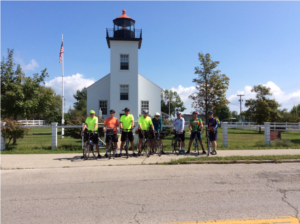 This combination of time and distance pushed our boundaries a bit, forcing a quick map study. Their proposed route covered mostly known territory for us. Since the calendar was open, I answered 'Yes, we can do this."
Joe Ossmann was the lead contact from the group. After just a few phone calls we established a good working rapport. In short order the route was down on paper, 11 days of riding to cover 600 miles. After a few days to get most of the lodging secured, the budget was complete. We included lodging, dining, maps & routing, sag and luggage service. The only thing not present vs. our public tours was a second staff member to guide them on the ground.
Joe was sure they had 6 riders, with the possibility for as many as 10. I sent the proposal to cover the options, and after a conference call with the group, we had come to agreement to proceed with the tour.
Upper Peninsula Challenges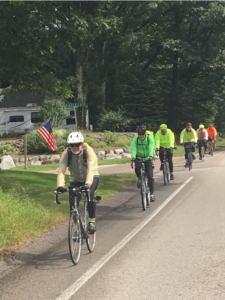 The first thing you notice quickly working in the remote Upper Peninsula is that many of the businesses are seasonal. In addition, some places have no internet presence. I had 9 nights of lodging complete, with plans for camping on the remaining two nights (a logistical nightmare, for sure!). Near the end of May I began searching for motels to fill this gap and replace the camping. Fortunately I got through to the Cedar River Motel in Cedar River, and to Sall-Mar Resort in Rapid River. I was able to add these motels to the itinerary, delete the camping, and not raise the tour cost. The guests were pleased with this development!
August 25 arrived quickly, and I was on the evening ferry to Wisconsin after enjoying a 20-mile ride near Ludington to see the end of their route. On Saturday I got to ride the first 15 miles of the tour route, a lovely bike path up to Two Rivers and back.The guests began to arrive about 1 p.m., and everyone was in by 4, assembling bikes and greeting each other.
Our crew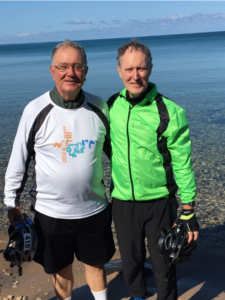 We had brothers Rich & Ron Fowler, one from Nebraska and the other from California; Dennis and Alan Cook (Sacramento and Chicago) and their nephew John. Joe from Michigan, Gordon from Delaware, and Fred from Rosewood CA. Take John out of the picture and you have 7 grandfathers with 27 grandchildren!
Over 80% of our route was on territory we cover on other tours. Surprisingly, we were only able to use familiar and tested hotels on two nights. Fortunately, all the new hotels lived up to their part of the bargain. Our  guests were pleased with their service.
In conclusion, this was a great Private Tour. We set new company records for duration and mileage, and also for testing new hotels.
If you have a group who would like a Private Tour, please give us a shout and we'll get out a proposal based on your needs!