We've had a love affair with the Upper Peninsula of Michigan for a while. The great riding and sights near the Pictured Rocks National Lakeshore are at the center of it all. Our Ride to Pictured Rocks has been refined over time, based on experience and on guest comments. We've developed a good working relationship with our hotel and restaurant vendors, all to ensure a good experience for you.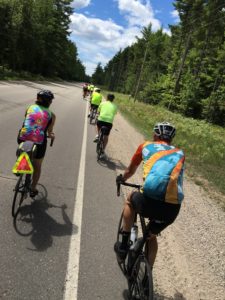 We begin this tour with a Sunday ride in Manistique, out and back to Big Springs State Park. You will see where the Kitch-Iti-Kipi springs erupts  from the ground and you can see it all from the glass bottom boat.
Monday our ride departs Lake Michigan and heads north to Munising, with a lunch stop in Shingleton. Munising is at the west end of the Pictured Rocks National Lakeshore, and is also the southernmost point of Lake Superior. Alger County boasts more waterfalls than any other county in the land, and you'll see several.
Enjoy a private boat ride at Pictured Rocks
Did we mention Lake Superior is right there? On Tuesday we enjoy a morning pontoon boat ride for our own private tour of the Pictured Rocks. We'll make several stops including at Chapel Rock Beach. The traditional miner's lunch of a baked pasty rounds out the morning, and leaves you energized for optional afternoon activities of hiking or biking, or reading by the beach.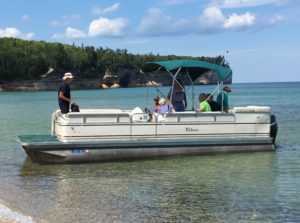 Wednesday is our long day, with about 55 miles through the woodlands behind the park. We wind from Munising over to Grand Marais and the North Shore Inn. Our roadside picnic lunch is on the shores of Lake Superior. An afternoon stop at the Log Slide will give you a glimpse into the logging industry of olden days. Grand Marais is a great town, boasting three restaurants and a brew pub.
The best B & B in the state!
Our ride Thursday turns us south, back towards Lake Michigan, and our overnight stop is at the best bed & breakfast on the Great Lakes- Chamberlin's Ole Forest Inn at Curtis. We have two tour loops in this part of the U.P., and they each stop at Chamberlin's for a reason. Innkeepers Bud & Kelly maintain a 140-year-old hotel just for travelers like us, complete with a full kitchen and a bar. In addition, there is live music in the dining room. You'll love this stopover.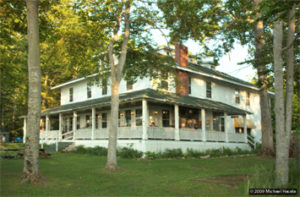 Our last day, Friday, includes a 40-mile ride back to Munising where we'll enjoy a box lunch prepared by Kelly Chamberlin.
This tour has it all-250 miles of great riding, comfortable lodging, good dining, and sights that are unique and interesting. Please join us this July!