Our Story
Bike Tour Vacations has provided fun-filled tours in the Great Lakes over the past 6 years. We've grown from a few tours in Michigan in 2011, to touring on all 5 Great Lakes plus ventures into Missouri, Kentucky, and Florida.
Our Tour Leaders have all been selected based on their skills and experience cycling. You might see any of the following leaders on your tour: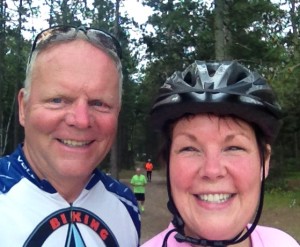 Tour Chief Jim Plaunt has been cycling his entire life, first around the neighborhood, then on to bike racing and endurance events, and most recently as a tourist. Jim grew up in Duluth and has lived in Michigan since 1990, giving him a thorough background in the geography and history of the region. Jim is a cheese-maker, and you can sample some when he's on tour. You'll see Jim on the Leelanau Shores and Niagara tours, and also along the Mississippi River tours.
For the lucky few, Marianne Plaunt will be staffing with Jim on your tour. She's the smart one at home, and loves to be along on-tour when her schedule allows.
Pam & Ralph Christensen are native to Michigan, growing up in lower Michigan, and spending their adult lives in Marquette in the upper peninsula. They were guests with us in 2012, and through friendship and discussion grew into being Tour Leaders. Pam drives the sag wagon, and Ralph will be on his bike. You might see them on our U.P. tours- Ride to Pictured Rocks, and Great Waters.
Michelle and Rich Scott are Tour Leaders who live in the Chicago area. They have a summer home near Ironwood, and do double-duty as leaders with Adventure Cycling. They lead our U.P. tours in the Porcupine Mountains and at Pictured Rocks.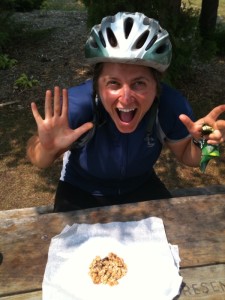 Maria Maslanka is our first-ever Tour Leader from 2011. She is an endurance cyclist with experience across the region. See Maria on the Kal-Haven Trail Tour, and on the Wine & Cheese Weekend.
Tom Jackson grew up in Duluth and now lives in Ann Arbor. With extensive adult cycling history, Tom has staffed tours in Minnesota and both upper and lower Michigan.
Fred Dore is our Show-me Tour Leader from Missouri, and he is the reason we tour on the Katy Trail. Fred has ridden the Katy Trail 6 times, and is a past tour leader for the League of Michigan Bicyclists.